Chances are you heard Florida's beaches have reopened. Despite the initial 24-hour news bloviation, things seem to be normalizing, and the travel industry in the lightly affected panhandle of the state is ready to jump-start.
For Resort Collection, that means 1,000 rooms spread across the coast of Panama City Beach are ready to be enjoyed.
Thanks to a strong audience paired with a platform and strategy, they've hit the sand running. Here's how.
Putting their own audience first
Most travel businesses experienced a "what's next?" mentality as the pace of cancellations, refunds, staffing and financial decisions peaked. Even in the confusion and shock of the shutdown, Resort Collection had the clarity to realize this would pass.
Without normal channels of marketing, they knew reaching and nurturing their existing audience would be critical in the plan to reopen.
Striking the right tone
Keeping that audience in conversation during one of travel's most challenging times ever would require empathetic outreach and careful messaging.
The Flip.to platform played a critical role, helping more than two hundred people share their stories with Resort Collection at the center during the pandemic-induced downtime.
It's those storytellers who are so important to the company's strategy. These are real people who shared authentic moments, and in doing so, introduced the VR company to a community that trusts them the most: their own friends and family.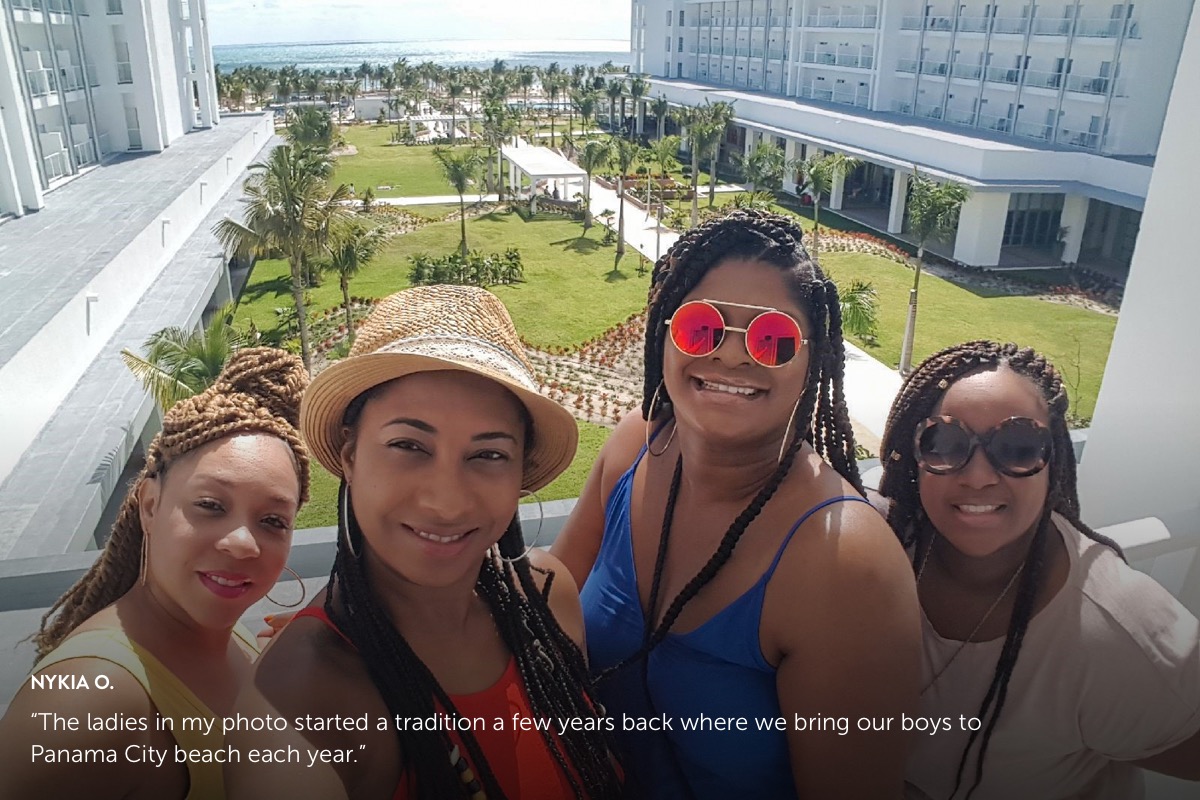 The audience responds
The response was phenomenal, and grew the collection's audience even wider. Beyond scale, these trusted connections were with a new, high-quality audience of like-minded individuals who mirrored the original storytellers—the right-fit audience for Resort Collection.
Now in active conversation, this new audience is primed as Resort Collection excitedly takes its first steps forward in more than a month.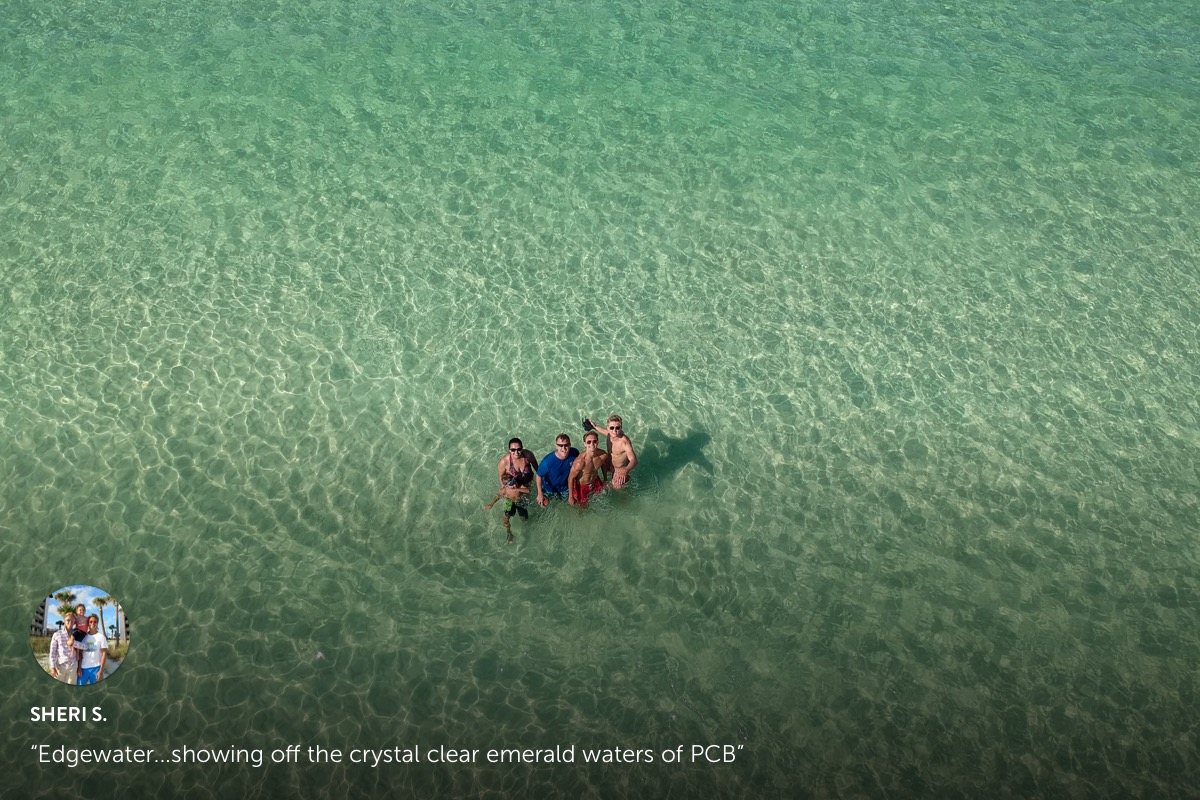 Authenticity and trust make better marketing
Resort Collection immediately noticed the stories generated by using the platform resonated with their audience.
How? For starters, they saw a spike in engagement and conversion, a testament to better conversations that are meaningful, timely and appropriate—all at a moment when people are deciding how and when they will be ready to travel again.
The platform put happy times at the front of mind for Resort Collection's new and old audience alike.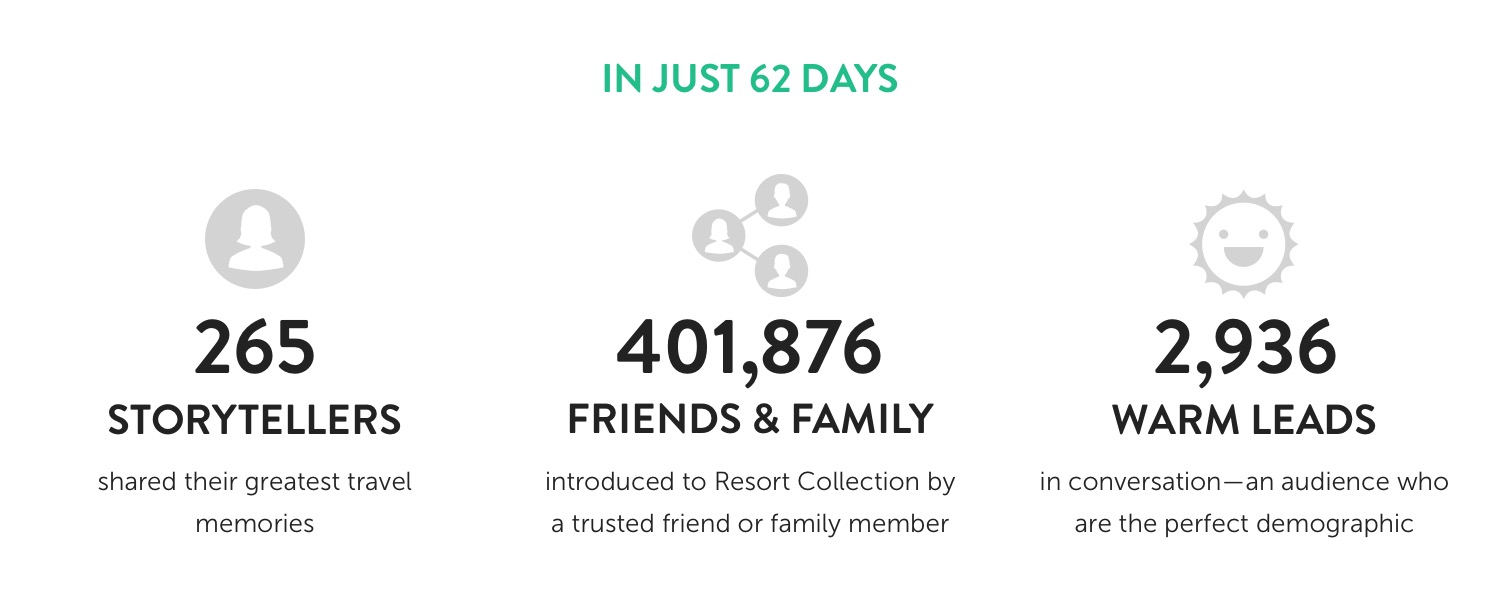 As they're phasing back into operation, the platform is now helping the collection immediately start welcoming this warm audience to their newly reopened properties.
And as units book and first guests arrive, they, too, will become storytellers, continuing to grow Resort Collection's audience, and seeding the funnel in the same way.
---
Resort Collection recognized the most important lesson in the pandemic: keep your audience at the center. Sparking the right conversations with that audience, and nailing timing and tone are incredibly important.
By prioritizing these efforts, when the time is right for both your properties AND your audience, they'll be there for you.