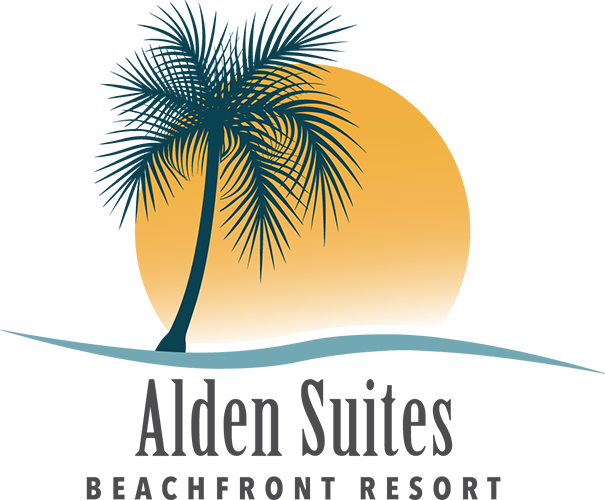 We aim to tackle marketing that's both good for travelers and good for business, and we partner with industry players who do the same to drive more impact for customers.
We teamed up with NAVIS and the Sunshine Gals to boost the bottom line for Alden Suites Beachfront Resort, a 143-room property in sunny St. Pete Beach, Florida. Here's a closer look at how the partnership set Alden up for a post-2020 comeback.
A competitive market
Marketing duo Sunshine Woodyard and Trudy Anderson of the Sunshine Gals are the conductors of Alden's marketing, together with Alden's VP of Operations, Tony Satterfield. He explains,
"The challenge with an independent hotel is not having that big brother that can feed you anywhere from thirty to sixty percent of your business."
Like other independent hotels, the property elbows its way into market share in many of the same crowded channels as its peers.
Alden and the Sunshine Gals knew they needed a different approach. They wanted to talk directly to their audience, segmenting based on their wants and needs, and knew focusing on the guest experience over promotions would be a better way to engage their community.
The approach was successful, but they quickly found the need to scale, leading them to tap Flip.to and NAVIS. The partnership would grow the audience faster, and build traveler relationships across the traveler journey, tackling their goals:
Reach and inspire an audience of dreamers who are the perfect demographic
Unveil planners on their site, sparking new conversations in more authentic ways
Win over new and repeat guests, inspiring them to return again and again

Growth at every part of the traveler journey
Winning over planners and bookers
After 2020, Alden's focus was to rebound more quickly and profitably by growing their direct channel. They turned to Flip.to, and we were excited to put to work the newest part of our marketing platform: Discovery.
Discovery unveils prospects on their site with a reimagined booking path, learning a planner's intent and travel aspirations in a more authentic way. From there, the platform re-engages and nurtures prospects by sparking better conversations based on that newly discovered intent.
Switching on Discovery resulted in a leap in conversion, and a significant increase in direct revenue for Alden.
Letting won-over guests inspire a new audience of dreamers
After these guests have stayed, Flip.to steps in once again—this time with Advocacy. Alden turns their guests into storytellers, letting them share their experiences to grow a new audience.
They reach a highly-targeted, like-minded demographic who are dreaming about travel, before competitors even have the chance. Plus, these storytellers fuel other marketing. Woodyard shares,
"Flip.to lets us tell authentic guest stories throughout the traveler journey. People can see themselves at the property, living the vacation dream."
The impact from Flip.to in the dreaming, planning & booking stages is massive: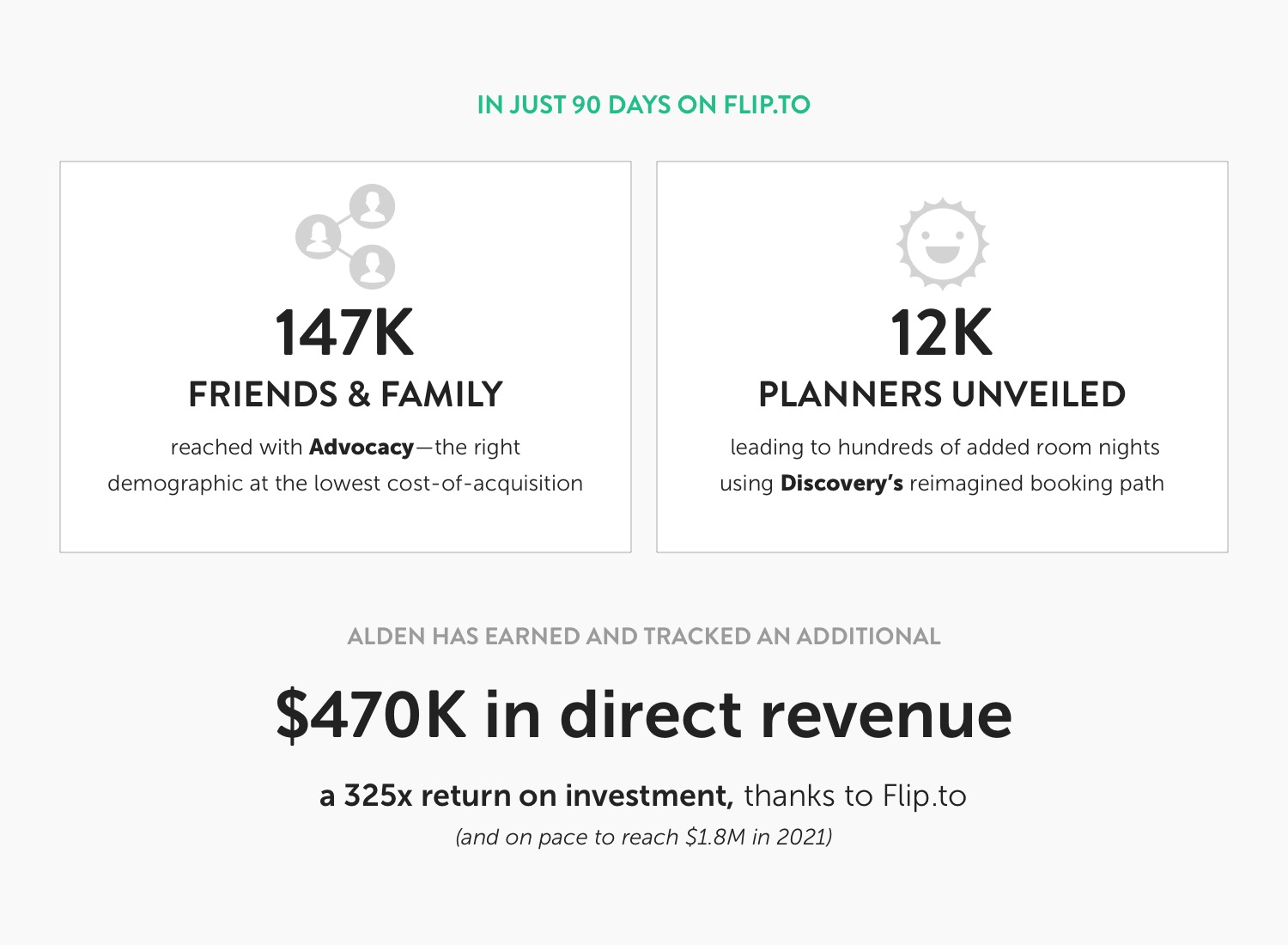 Extending the traveler's lifetime value
After working hard to grow and maintain this highly valuable audience, Alden Suites sought to maximize its impact, and that's where NAVIS took the reins.
In order to build more fruitful, long-term relationships, NAVIS aims to increase its value, analyzing guest data, nurturing leads, and creating new or repeat direct bookings.
In doing so, NAVIS helps Alden Suites continue meaningful conversations with past guests, keeping their audience from going stale and ultimately priming guests to return.
This increases long-term revenue, creating growth that has been especially important after the challenges our industry has faced in the past year: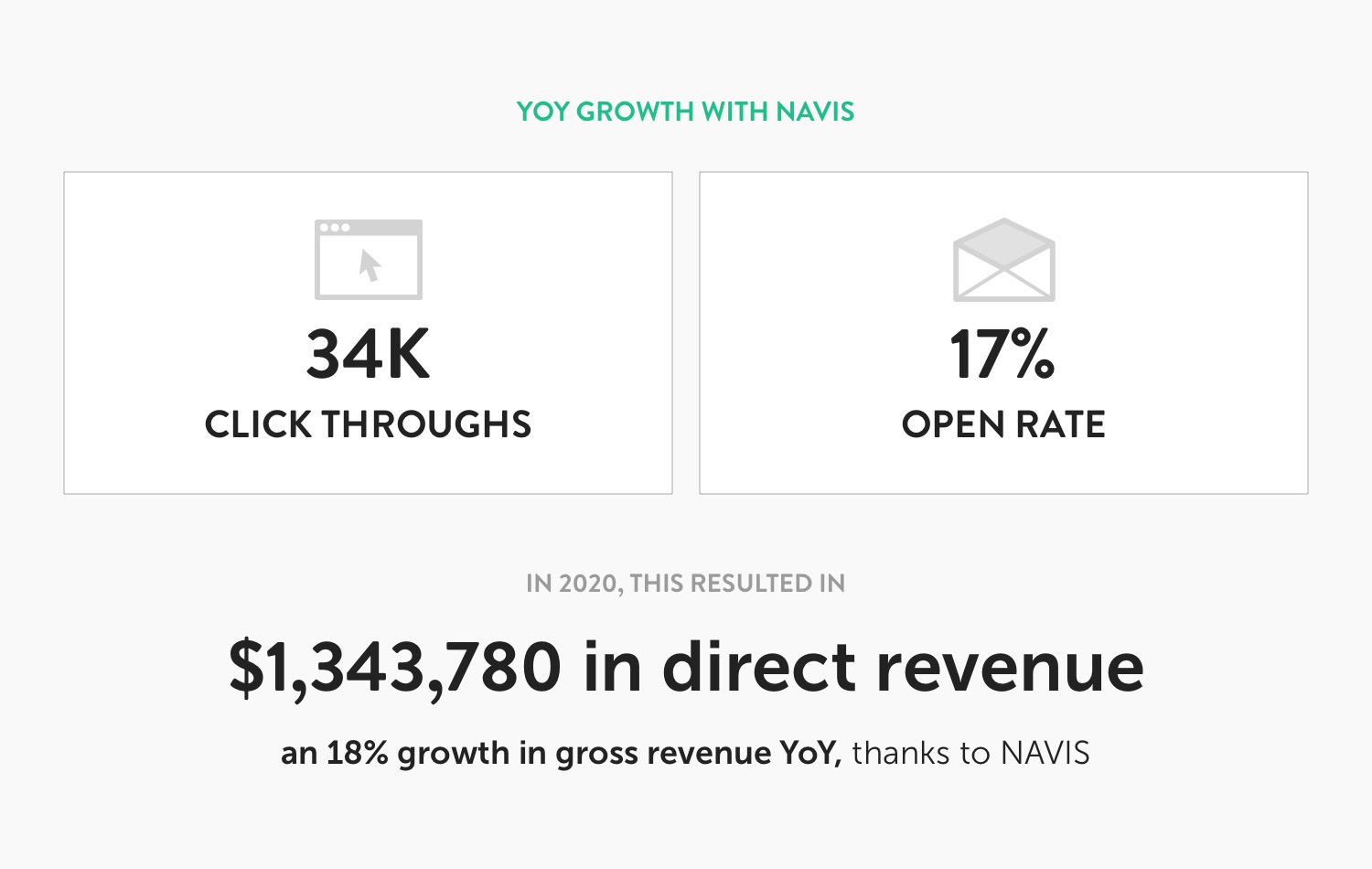 Teaming up for better marketing and better results
Marketing efforts with Flip.to and NAVIS proving effective through to revenue have helped the spirited team at Alden and the Sunshine Gals solidify their strategy:
"The partnership with NAVIS and Flip.to is a critical component of how we've been successful over the last several years,"
says Satterfield. And Anderson agrees:
"Our investment in building our own audience prior to COVID has made recovery work a lot better."
Let's talk
If you're ready to hear how the Flip.to marketing platform can launch incredible impact for your property in weeks, get in touch. To keep up with more on what Alden Suites, NAVIS, and the Sunshine Gals are doing to reshape travel marketing, give them a follow:
We'll share how you can reach, inspire and convert new audiences at a massive scale.