Beyond one-to-one traveler journeys, we've built a platform that launches hoteliers on a marketing journey, too. A journey that infuses the tenets of good hospitality from beginning to end, and that's simple to manage, yet incredibly impactful.

When Margaritaville Lake Resort, Lake Conroe | Houston opened its doors, the property brought an entirely new concept to the area. They had to build an audience, and inspire them to get "into a vacation state of mind."
They tapped Flip.to to do just that—and when lake life called, this audience answered, to the tune of incredible impact: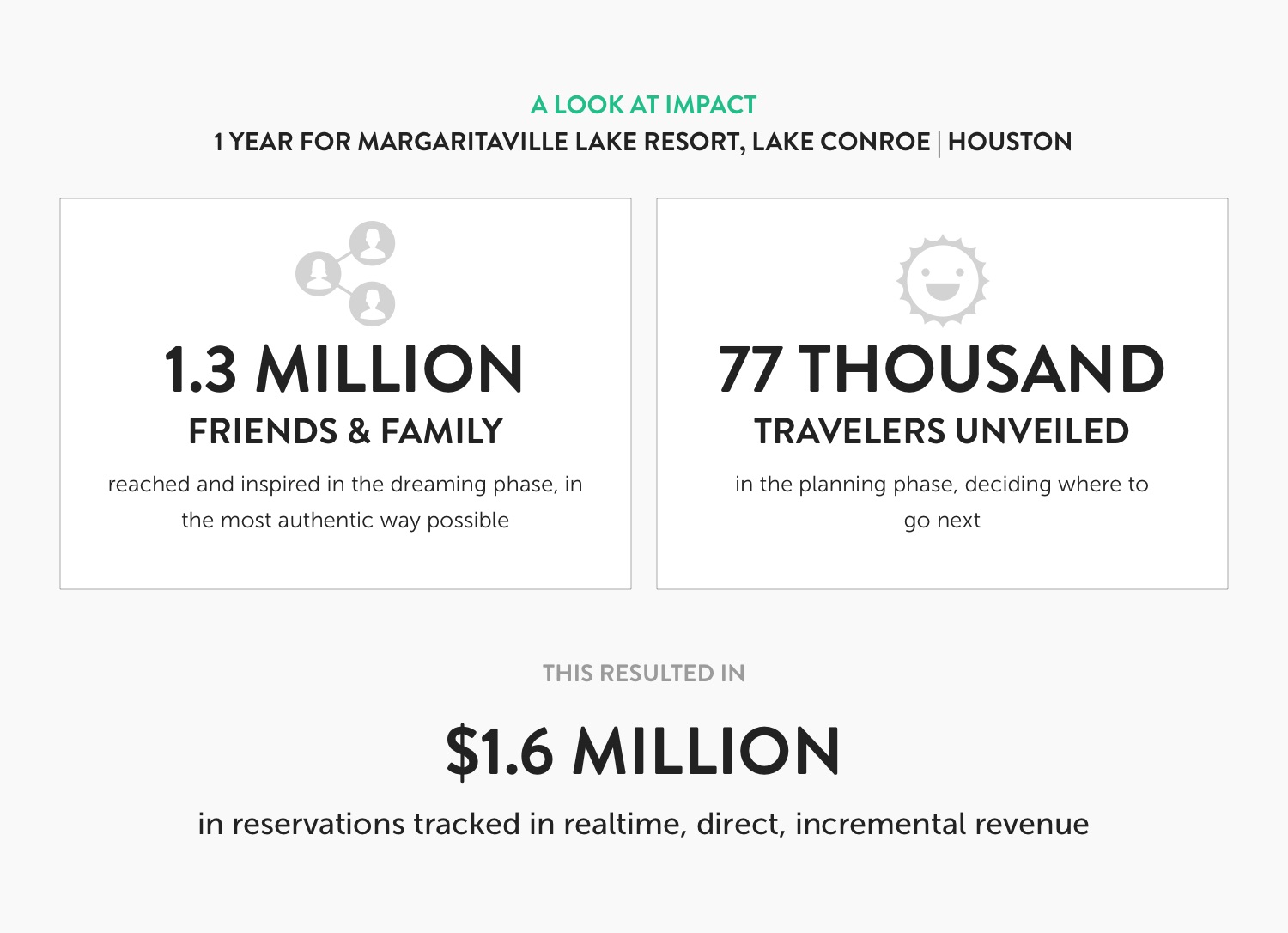 So, how'd we get here? Let's dive in. 🏊👇
Timing is everything, until it's not
As you'd expect, mid-2020 was a challenging time to open a new resort—even for one with rock star branding and universal name appeal. But schedules are schedules, and a property sitting idle is guaranteed to earn zero returns.
On the edge of glimmering, boater-friendly Lake Conroe, the 335-room island outpost was fresh off a massive renovation and rebranding that made it unique to any other offering on or near the lake.
Changes in Latitudes
As it does, the Margaritaville brand brought a slice of boat-drink-inspired island life to the heart of land-locked Texas, where it created a new lakefront destination fit for the surrounding drive markets of Houston, Dallas, and Austin.
Caribbean-hued paint schemes and thatch-roofed palapas inspire a more southern latitude, while Jolly Mon Water Park, also tucked in a grove of swaying palm trees, kicks up a splash of fun. Of course, no Margaritaville property is complete without a signature LandShark Bar & Grill, which in Lake Conroe, is appropriately set waterside.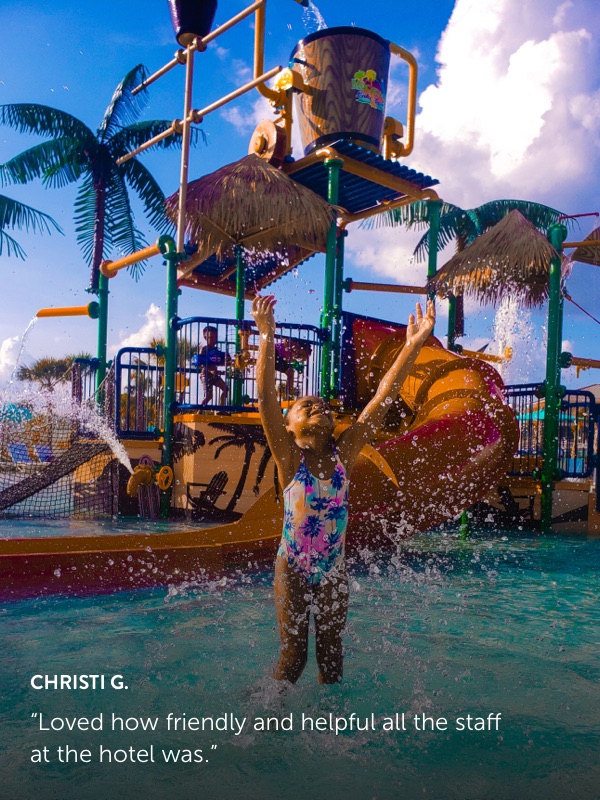 Flip.to leads the charge
To thwart the unfortunate debut timing, the resort needed to grow an audience ready to receive this fin-tastic new concept.
When we partnered with the lakeside property, Flip.to Customer Success standout, Joseph Meuse, quickly became an extension of their marketing team.
Joseph helped formulate a strategy to reach and inspire travelers, especially ones that would be most engaged with lake life. His input led the resort's team to launch conversations with a new audience in an authentic way, and at the right time in their traveler journeys.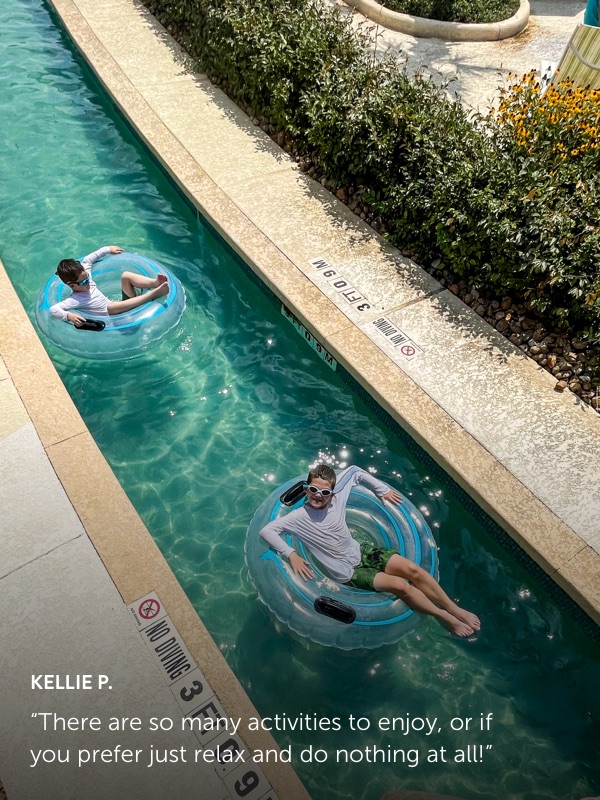 Advocacy in the dreaming phase
Joseph first helped to maximize the impact of the Advocacy platform. He and the property's team launched a campaign around lakeside memories.
Stories began flooding in, filled with travelers' best moments spent on or near the water—a positive connection which was now associated with a new resort.
This led the brand into conversation with these potential new guests, and created an ever-growing audience for the resort with a love of the lake. Once the property was fully open, Flip.to helped to win-over this new audience with the right messaging.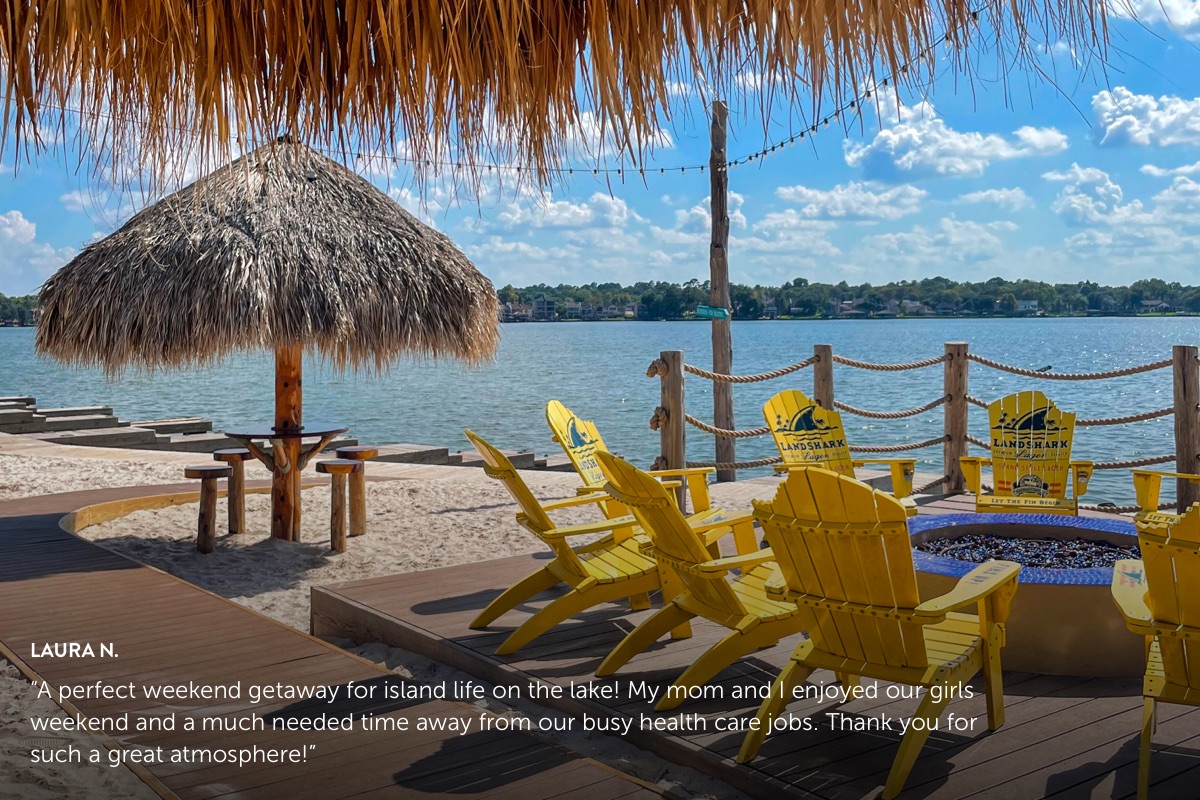 Discovery in the planning phase
Joseph then switched on the Discovery platform to win over planners visiting the resort's website. This part of the platform starts conversations in a reimagined way, leads planners to unveil, and learns their intent.
Flip.to helps Margaritaville Lake Resort, Lake Conroe | Houston re-engage these planners around that intent when they're ready to book. That effort increased conversion at the bottom of the funnel, and together with Advocacy humming along in the dreaming phase, fueled a successful opening year for the property.
A successful partnership
The platform sparks genuine conversations around travelers' intent, comes fully charged to grow audiences, and converts planners into guests—all with only light lift from your team, and at a much lower cost than through traditional marketing channels.